Recommend Martin's obituary to your friends
In loving memory of
Martin
1931 - 2022
Martin Rintjema
In Loving Memory
1931 - 2022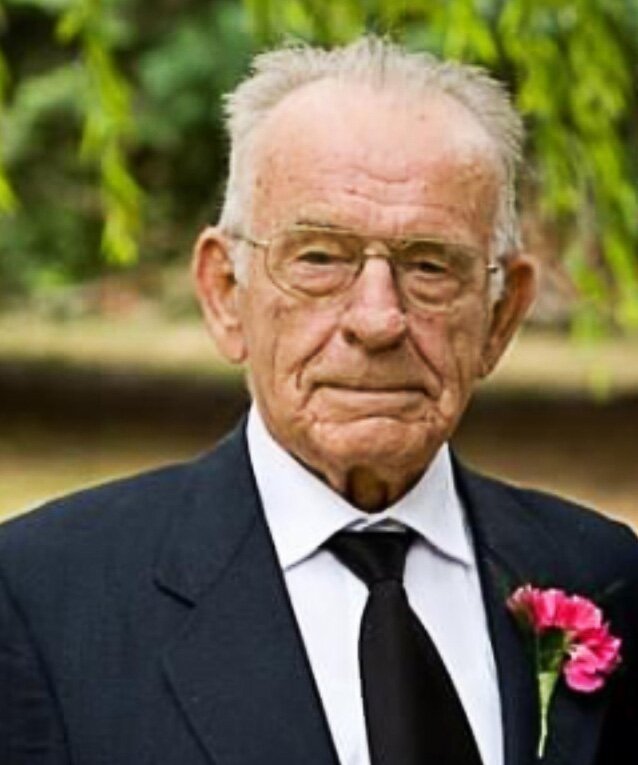 Obituary of Martin Rintjema
RINTJEMA: Martin
Our great God, who is infinite in power and wisdom, has taken to Himself Martin Rintjema in his 91st year. Martin was born on February 25, 1931 in Akkerwoude, Friesland to Tjeerd and Jeltje Rintjema (Haakma). He was predeceased by his beloved wife Pearl (Koopman) in 2010.
Dad made us promise to make sure his obituary was not about himself, but only about his Saviour Jesus Christ. In keeping with his wishes, we respect our God fearing Father's humble request.
Our father knew of his great need and sin, but he also knew that Christ regarded his helplessness, and that he was forgiven through the shedding of Christ's blood. Martin wanted nothing more than Christ be glorified in his life and also his death. We rejoice that he is free from sin, sickness, and suffering and is with his Saviour in Glory! Praise the Lord!
Dad is survived by his 9 children and their spouses, Jack Rintjema, Diane and Keith Vreman, Ray Rintjema, Joyce and John Menger, Tom Rintjema, Sue and John Koopman, Dave and Trudy Rintjema, Rob and Arlene Rintjema, and Christina and Phil Oosterman. Opa will also be missed by his grandchildren, Lindsay and Jimmy, Lauren and Steve, Kerri and Jonathan, Kevin and Denise, Kim and Brian, Jason and Angela, Michelle and Nick, Kristen and Derek, Jeremy and Stephanie, Jordan and Rebekah, Greg, Darren, Trevor and Danielle, Scott and Jen, Ben, Josh and Naomi, Erin and Thomas, Caleb, Laura, Melanie and Brady, Andrea, Jenna, Mikaela, Geoffrey, Kaitlyn, Matthew and Stephanie. He is also survived by 35 great grandchildren.
Martin is survived by his brothers Jochum and Dirkje Rintjema and Jan and Maaike Rintjema in the Netherlands. Martin was also loved and cared for by Pearl's siblings, Tom Koopman, Diane and Nick Zuidema, Linda and Harry Sluys, Rina Warner, Ray Koopman and Bill and Wilma Koopman.
Visitation will be Thursday evening 7-9 pm at Living Hope Free Reformed Church, 159 Gregory Drive E, Chatham, and Friday morning 11 am -1 pm, also at the church. Funeral service will be at the church on Friday at 1 pm. Those planning to attend are required to register online or by phoning the Funeral Home. The Bereavement Authority of Ontario have mandated that all attendees wear a mask. To Register for visitation click here https://signup.com/go/iYSbgkM To register for the Funeral Service click here https://signup.com/go/itOdrDL,
In lieu of flowers, donations can be made to Operation Smile, which would be greatly appreciated.
"This poor man cried and the Lord heard him, and delivered him out of all his troubles. Psalm 34: 6.
Evening Visitation
7:00 pm - 9:00 pm
Thursday, February 3, 2022
Living Hope Free Reformed Church
159 Gregory Drive East
Chatham, Ontario, Canada
Service Day Visitation
11:00 am - 1:00 pm
Friday, February 4, 2022
Living Hope Free Reformed Church
159 Gregory Drive East
Chatham, Ontario, Canada
Funeral Service
1:00 pm - 2:00 pm
Friday, February 4, 2022
Living Hope Free Reformed Church
159 Gregory Drive East
Chatham, Ontario, Canada
Interment
2:00 pm - 3:00 pm
Friday, February 4, 2022
Maple Leaf Cemetery
Maple Leaf Dr
Chatham , Ontario, Canada