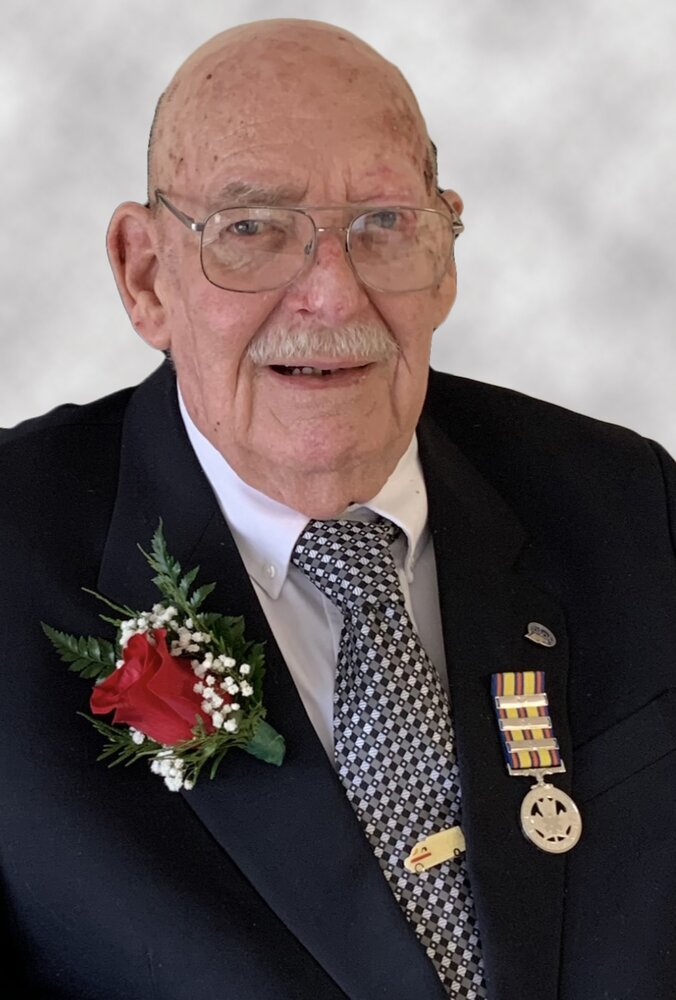 Obituary of Len Langlois
Len Langlois
It is with heavy hearts that we share the passing of Len Langlois Wednesday, March 8, 2023. After three years at Blenheim Community Village Long Term Care, Len quietly slipped into eternal peace at 12:30 pm. Survived by wife Mary An for 64 years and children Laurie, Kevin (Jodi), Mary Catherine (Larry Gignac) and Ken (Lisa Corrigan). Grandpa is survived by four grandchildren, three great grandchildren and one very spoiled fur baby, Presley. Only son of Aimee (1948) and George (1972) Langlois and one surviving step brother Maurice Pierre (Frieda).
Len's career started with ABC Ambulance in Windsor in 1956, as a 16-year-old, and working with various private services including Arbour Ambulance in Chatham and London Ambulance through 1974, Len became the sole owner / operator of the Chatham and District Ambulance Service in 1975 until the Chatham-Kent EMS was created through the municipal downloading period in 2000.
During that time Len Langlois was instrumental in the development and support of both the local EMS service, educational requirements, mentoring of future leaders, and as a leader of the provincial management group, the Ontario Ambulance Operators Association where he served with distinction on the board for many years including terms as Board member, president and past president.
Following 2000, Len Langlois was instrumental in creating, and being the curator of the Ontario EMS Museum in Essex where he was preserving the history of EMS in this great Province and educating the public on the important role paramedics play in supporting our communities. The EMS Museum located at The Canadian Transportation Museum and Heritage Village is his legacy.
Part of Len's legacy is that both his son's are currently active paramedics in Chatham-Kent. How proud Len is to have both his boys follow in his footsteps.
In 2020 Len was honoured for his life's work with 'The Emergency Medical Services Exemplary Service Medal.'
The EMS Exemplary Service Medal is not a long service medal rather it is awarded only to individuals whose service has been recognized as being exemplary in nature, as confirmed locally, at the provincial committee level, and at the national committee level.
Since the Award's inception Len is one of only eight across Canada who have received the third bar to honour his 50 year "extraordinary career" as manager of the ambulance service as well as for the role he took in retirement to preserve the history of EMS by opening the Southwestern Ontario Ambulance/Emergency Service Museum. Len's pride is evident in the establishment of what is the local paramedic service today and preserved and promoted the EMS profession.
Len was an avid antique car enthusiast. Over the years, he acquired a dozen or more antique vehicles, several ambulances, and a few hearses, in keeping with his profession but purchased others that caught his fancy.
He was an active member of the Kent Historic Auto Club, Historic Vehicle Society of Ontario, Professional Car Society and the DeSoto Club. He applied his knowledge and car enthusiasm not only as a contributing club member, but took his turn as president and past president for the clubs over the years.
He was a community volunteer, providing his exceptional organization and leadership abilities in conjunction with the city BIA members, Chatham Kent Police and club members to co-host the yearly weekend Retrofest Car Show in downtown Chatham for 37 years, previously named The Festival of Nations.
Len's serious health and mobility issues in 2020 eventually contributed to his retirement from these leadership roles but his enthusiasm remains.
Len's vision of community service continues through his children, grandchildren and great grandchildren with his blessings.
Special thanks to all the staff at the Blenheim Community Village Long Term Care for their dedication, professionalism and compassionate care in an understaffed, underpaid and often unappreciated profession! You made Dad very comfortable and content during his last few years! We also appreciate the services of Dr. Perkin and Dr. Clendenning. And last we wish to send hugs to Win, Dads roommate, for being his watchdog and friend! They were inseparable troublemakers! Lol
Arrangements entrusted to McKinlay Funeral Home. Visitation Saturday, March 11, 2023 from 2:00 - 4:00 pm and 7:00 - 9:00 pm and Sunday, March 12, 2023 10:00 am until the Celebration of Life at 11:00 am. Private family burial Monday, March 13, 2023. Memorial gifts in Len's name can be made to the 'EMS Museum' care of The Canadian Transportation Museum and Heritage Village, 6155 Arner Townline, Kingsville Ontario, N9Y 2E5.
Messages of condolence can be left at www.mckinlayfuneralhome.com
McKinlay Funeral Home, 459 St. Clair Street, Chatham, 519-351-2040