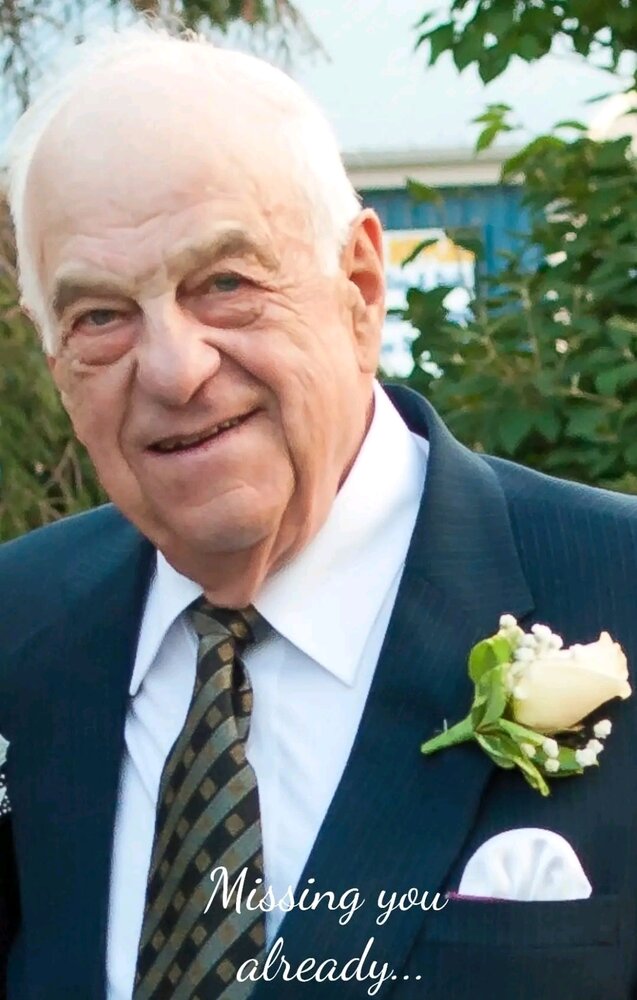 Obituary of Orville Tetrault

TETRAULT: Orville Seville -
It is with great sadness that we announce the passing of Orville Tetrault on Thursday, November 3, 2022 at the age of 90. Loving son of the late Lawrence and Anna "Edna" Tetrault (nee Lozon).
Born in Chatham, Ontario, beloved husband of the late Leona Tetrault.
Proud father of Donald Tetrault (the late Ruth Tetrault), the late Ronald Tetrault (Michele Howes), the late Douglas Tetrault, David Tetrault (Diane Carey), Annita Zimmerman (Michael Pecaric), Angela Denomme (Barry).
Grandpa to Candice and Mike Oliveira, Jeremy and Michelle Tetrault, Matt Tetrault (Kim Sorrel), Marcus Zimmerman (Amanda), Anthony Zimmerman (Jennifer), Steven Wheeler (Tasha Holland), Chad Wheeler (Laura) and Donald Tetrault Jr., James Lachance (Brenna), the late Jake Lachance and Matt Lachance. Missed by several great-grandchildren.
Brother to the late Cecile Lachance (Charles) and the late Victor Tetrault (Betty), and Rosaire Tetrault (Suzanne).
Missed by several nieces, nephews, and extended family and friends.
Orville began his career at International Harvester in Chatham. While working at Navistar, Orville built a T.V. repair business installing aerials and servicing televisions in Chatham-Kent. He became interested in farming, with a young family, and grew his farming operation into a successful business throughout the years. Orville planted and harvested various crops including onions, tomatoes, peppers, cucumbers, and potatoes. Orville was most proud when he built a processing plant to package onions and peppers. He worked tirelessly to become one of the most successful farmers in Dover. Orville was known in the farming community as the "Onion King".
Orville enjoyed travelling the backroads, taking his grandchildren for a tour of Dover on an afternoon drive. He enjoyed watching the crops grow and stopping in to chat with other farmers in the community.
Orville enjoyed his family dinners where we would gather at his large dining room table to enjoy the many bounties of harvest and was well known for his "Pepper Stew". He enjoyed barbequing for family and friends with Mom's special spices. Happy hour always started at five o'clock.
He loved to ice fishing in his younger years on lake-St-Clair, where he taught his children and grandchildren the joys of fishing. A beloved tradition carried on by his great-grandchildren.
Orville was very proud of all his children and grandchildren. He was always willing to tell his stories of farming, TV business and his ingenious inventions to anyone who would listen.
He will be sadly missed by everyone who knew him.
Family will receive friends at the Funeral Home, 459 St. Clair Street, Chatham on Wednesday, November 9, 2022 from 2:00 - 4:00pm and 7:00 - 9:00pm. A Funeral Mass will be Celebrated at Immaculée Conception and St. Philippe Parish, 24156 Winter Line Rd., Pain Court at 11:00am on Thursday, November 10, 2022. Interment to follow at St. Philippe Cemetery, Grande Pointe.
Donations made in memory of Orville to the Chatham-Kent Hospice Foundation or the Canadian Cancer Society would be appreciated.
Online condolences may be left at www.mckinlayfuneralhome.com
McKinlay Funeral Home, 459 St. Clair Street, Chatham, 519-351-2040

Share Your Memory of
Orville