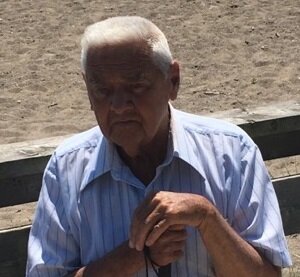 Obituary of Harvey Jeffrey
Harvey (Sonny) Jeffrey March 28 1930 - November 6 2021
We are sad to announce the passing of Harvey (Sonny), peacefully, in his sleep, at Copper Terrace Long Term Care Home.
Harvey was the son of Harvey and Hazel (Franklin) Jeffrey. He is predeceased by his wife, Joanne (O'Rourke), to whom he was devoted for 37 years.
Dad to Susan Jeffrey, Paul Jeffrey, Jim Jeffrey (Kim) and Mark Jeffrey. Father-in-law to Jennifer Cobb. Grandpa to Anastasia Jeffrey (Jamin Franklin), Samantha Bird (Matt Vanstone), Steve Bird, Jessica Towsley (Robert Towsley), Matt Jeffrey, and the late Emily Jeffrey. Great Grandpa to Nia Franklin, Gracelyn Towsley, and Marlee Towsley. Brother to Wayne "Rocky" Jeffrey (Florence), and predeceased by his sister Lawanna Huscroft. Uncle Jeff to many nieces and nephews.
Harvey spent his entire life involved in the automotive trades. With the help of his sons, brother Rocky, shop staff, and a host of friends in the "business," Sonny repaired and restored dozens of cars and boats (and the occasional bus), with a particular love for his Corvettes and his Lincoln.
When not busy with work, Sonny managed to establish himself as a premier bagpipe instructor, and helped many local pipers, young and old, to achieve awards and distinction throughout Canada in the piping world.
He also loved to fish, and spent many hours on Mitchell's Bay in his boat catching bass, trolling for trout on Lake Kipawa, or just floating around enjoying the sun.
But the true love of Harvey's life was his wife, Joanne. With the help of many devoted family and friends, Harvey fiercely cared for our Mom for 17 years after a devastating aneurysm.
We send our deepest thanks to Dr. Sherry Roszell for the care, kindness, and compassion given to Dad, and all of us, over the years.
Thanks go out as well to the Staff of Copper Terrace 3 North for taking care of Dad during his time there.
In lieu of flowers, we would ask for donations to the Spina Bifida Association, The Wish Centre, Big Fix Grassroots Cat Rescue, or Orphaned Kitten Nurseries and Adoption Services.
And, if you were to ask Sonny what else he would want, he would ask you to always keep some peanuts in your pocket, feed the wild birds and the squirrels, pet a dog today, and adopt a stray cat. Name it Harvey.
Visitation will be Wednesday, November 10, 2021 from 2:00 - 4:00 p.m. and 6:00 - 9:00 pm at McKinlay Funeral Home 459 St. Clair Street. Chatham, ON. A private family funeral service will be November 11, 2021 with a burial at Maple Leaf cemetery. Those wishing to attend visitation must be pre-registered which can be done on the funeral home website or by calling the funeral home at 519-351-2040. Please note the Bereavement Authority of Ontario requires all those in attendance of a visitation or funeral must wear a mask.
Please register for visitation here.
Share Your Memory of
Harvey