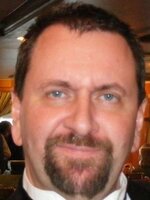 Rick Francis
Francis, Richard "Rick" Patrick
It is with heavy hearts we announce on the 16th of January 2022 Rick Patrick Francis passed away in his 62nd year with his family at his side. He fought hard to stay, but God welcomed him home.

Born in Brantford, Ontario to Mary (née Penrose) and Ralph [2019] Francis, Rick joined the family after his older brother Mark Francis (Brenda Kuzma). From a young age, he carved his own path. His entrepreneurial spirit showed. Yet his greatest pride was for the family he shared with his devoted wife, Theresa Francis, and her parents Julius and Sara [2021] Paglia.

He is survived by his beloved wife of 32 years, Theresa; his mother, Mary; his brother, Mark Francis (Brenda Kuzma); his daughters, Amy and Jessica; and his adoring grandchildren, Winston, Lucille, and Opal Francis. His extended family included his aunt, Janice Obe (née Penrose), and his in-laws Julius Paglia, Anne Marie and Tom Coons, Robert and Paula Paglia, Vincent and Laura Paglia, Stephen Paglia (Laura Teasdale), Patricia and Matthew Brenner, Joseph and Christine Paglia, Mike and Paula Linger, and Patrice Graham. His life was further filled with the joy of his friendships with T.J. Schram, Victor and Tina Chepeka, Cindy Browning, several cousins, many nieces and nephews, great-nieces and great nephews, and various other dear friends. He was pre-deceased by his close friend Charles Franklin Bow.

Last an employee of National Grocer, Rick got his start at Gordon's and Zehrs. Through his life he ventured into owning a small shop, pursued a passion for computer repairs as an entrepreneur, and taught business courses at Ridgetown College. Even after multiple sclerosis affected his ambulation and stamina he continued to give himself to the community, acting on the Chatham-Kent Accessibility Advisory Committee and volunteering with the Victim Services, Sunshine Foundation, and the Multiple Sclerosis Society. He was also a member of the Freemasons and the Knights of Columbus.
His strength and good-nature shone through his actions and relationships. His wit and charm never faded even when his body failed him. He was an inspiration for perseverance and generosity to all those who knew him. Despite adversity, his infectious optimism was always with him and remains with his family still.
Rick and his wife opened their home to many visitors, including foreign exchange students. The home was a favourite summer stay for his nieces and nephews, whose fond memories of that time are among their most treasured.
Rick and his family would like to thank every caregiver who made the challenges he faced surmountable. Thank-you to the CKHA Emergency Room staff for helping him through these difficult times and his long illness. Particular thanks to Dr. Stephen Jones for providing exceptional medical care via house visits. A special thanks to Gerry Murphy, associated with St. Joseph's Church, for his dedication to allowing Rick to keep his religious convictions. We are filled with gratitude for the years of wonderful service and care provided by March of Dimes, Bayshore nursing staff, and Care Partners.

In lieu of flowers, please consider donating to either the March of Dimes, the Multiple Sclerosis Society, or the charity of your choice.
Friends and family are invited to attend visitation on Thursday, Janaury 20th, 2022 from 2-4 p.m. and 6-8 p.m. and Friday, January 21st, 2022 from 11-12:30 p.m. followed by Funeral Mass at St. Jospeh's Parish. at 1:30 p.m. Pre registration is required to attend the Visitation and/or Funeral Mass. Please register at the links below. The livestream begins at 1:30 and is available here https://youtu.be/Rtz-GNFol9w
Share a condolence online at www.mckinlayfuneralhome.com
Please register for Thursday Visitation here https://signup.com/go/HpUGPUU
Please register for Friday Visitation Here https://signup.com/go/NDmLYTQ
Please register for Funeral Mass here https://signup.com/go/azKVemm