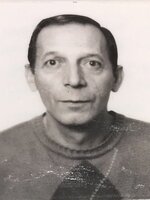 Michalis Monoyios
MONOYIOS: Michalis -
Passed away on Wednesday, December 15, 2021 at the age of 76.
Born in Serres, Greece, Michalis will be missed by loved ones, his church family and friends.
Friends will be received at the Funeral Home, 459 St. Clair Street, Chatham on Wednesday, December 22, 2021 from 6:00 - 8:00pm. Prayers will be celebrated at the Funeral Home at 1:30pm on Thursday, December 23, 2021 followed by an interment at Maple Leaf Cemetery. Those planning to attend the visitation or the prayers are required to register online at (https://signup.com/go/GZbOSoK). The Bereavement Authority of Ontario have mandated that all attendees wear a mask.
In lieu of flowers, donations made in memory of Michalis to St. Nektarios Greek Orthodox Church would be appreciated.
McKinlay Funeral Home, 459 St. Clair Street, Chatham, 519-351-2040