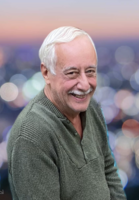 Paul Dawson
Paul Howard Dawson born April 17th 1949 passed away suddenly on October 31 2021 in the arms of his loving wife at age 72.
Paul had been diagnosed with stage 4 pancreatic cancer July of this year but never shared that fact and never spent a day in hospital.
Paul leaves behind his wife of 48 years Kathleen Dawson, his daughter Sarah (Scott Jeffords) son Andrew (Alicia Therrian) and son Braden Dawson. His sister Crissa (Bill Young), niece Alexandra and nephew Michael. Pre deceased by his parents Phyllis and Ernest Dawson. Will be lovingly missed by grandchildren Kadance, Simone and Spencer who cherish so many memories of their Grampy always.
Paul was born in Scarborough England and immigrated to Canada with his parents. Paul was very proud of his heritage and his last request was in fact Lucozade from the British Shop.
Paul attended Lakehead University, was a founding member and volunteer Fire Chief for Shuniah Fire Department, a regional manager for Brewers Retail. Paul loved to hunt, fly, golf and curl. He was a member of the Port Arthur skydiving club.
He was an entrepreneur at heart and founded The Critter Shop in Chatham in 1991 which still operates today at the hands of his son Braden. Paul was happiest at work, sailing, out for a boat ride on his son's boat and at the cottage in Rondeau where he loved to tinker.
Paul's sense of humor will be greatly missed by friends and family.
Good byes are not forever, good byes are not the end, they simply mean I miss you until we meet again.