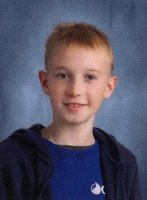 Joshua Neufeld Woelke
With family gathered at his side, Joshua Neufeld Woelke, of Dresden, passed away at the age of 11, on Sunday, May 30th, 2021, after a courageous battle with a cancerous brain tumour. Beloved son of Wilhem and Katharina Woelke. Dear brother of Grace, Joseph, and Isaiah Woelke. Cherished grandson of Jacob & Margaretha Woelke, and Cornelius & Katharina Neufeld. Joshua will be deeply missed by his extended family and friends.
Visitation will be held at McKinlay Funeral Home, 459 St. Clair Street, Chatham, on Wednesday from 2-5pm and 6-9:30pm. Presently all Visitation Periods have been filled to capacity, as dictated by Public Health Measures.
The Bereavement Authority of Ontario has mandated that all in attendance must wear a mask.
A Private Funeral Service will be held at New Reinland Mennonite Church, 1330 Mersea Road 6, Wheatley, on Thursday at 1pm. The Funeral Service will be live-streamed at www.newreinlandmennonitechurch.com. Interment to follow in Graceland Cemetery, Olinda.
Online condolences may be left at www.mckinlayfuneralhome.com.
McKinlay Funeral Home, 459 St. Clair Street, Chatham, 519-351-2040
Praise ye the Lord. I will praise the Lord with my whole heart, in the assembly of the upright, and in the congregation. The works of the Lord are great, sought out of all them that have pleasure therein. His work is honourable and glorious: and his righteousness endureth for ever. He hath made his wonderful works to be remembered: the Lord is gracious and full of compassion. He hath given meat unto them that fear him: he will ever be mindful of his covenant. He hath shewed his people the power of his works, that he may give them the heritage of the heathen. The works of his hands are verity and judgment; all his commandments are sure. They stand fast forever and ever, and are done in truth and uprightness. He sent redemption unto his people: he hath commanded his covenant for ever: holy and reverend is his name. The fear of the Lord is the beginning of wisdom: a good understanding have all they that do his commandments: his praise endureth forever. - Psalm 111