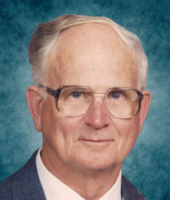 Bill Brackett
BRACKETT, William "Bill" James Edgar...
On Saturday, May 29th 2021, William (Bill) Brackett passed away at the age of 93.
Bill is pre-deceased by his best friends; beloved wife, Catherine (nee McGugan) Brackett and four legged companion, Abby. Bill and Catherine were married for 59 years and together, raised and loved their twin boys, Scott (Joanne) Brackett of Chatham and Stephen (Jill) Brackett of Clarkston, Michigan. Bill was Grandpa to three much loved grandsons: Matthew (Katy) and Christopher of Toronto and Darryl of Blenheim.
Bill will be remembered fondly by life-long friends, neighbors, and extended family.
Bill was an only child born to Edgar and Dorothy (nee Clement) Brackett, raised and rooted in Chatham. He attended McKeough Public School, the Chatham Vocational School and was proud to have worked with his father at the Dominion Sugar Company before starting a 30 year career as a draftsman at International Harvester/Navistar. Until his retirement, Bill was known around the office for his steady (left) hand, incomparable sense of humour and frequent nose bleeds.
Bill also worked independently as a draftsman, drawing floor plans for notable buildings including St. Andrew's Residence, Wally World and various homes in Lynwood subdivision and surrounding area.
In his retirement, Bill, with wife Catherine focused their energies into loving their grandchildren, keeping the house well-stocked with candy and travelling across Canada and the US. He loved car racing, banana splits and recounting the days of yesteryear.
Donations in memory of Bill can be made to the Heart and Stroke Foundation or the Stratford Festival, ARTspace Chatham or Cougars Football - three institutions where Bill proudly watched his grand children learn and grow or to a charity of your choice.
Bill's family would like to thank the staff at Riverview Gardens and St. Andrew's Residence for their support and care over the past year.
Cremation has taken place. A private family service will take place at the end of summer, with Bill's cremated remains being split between Duart Cemetery, Duart, where he will be rejoined with Catherine and Maple Leaf Cemetery, Chatham, where he will rest with his parents.

McKinlay Funeral Home, 459 St. Clair Street, Chatham, 519-351-2040