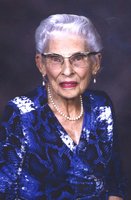 Betty Krekewich
Betty Krekewich (nee Gray) passed away peacefully on January 4, 2021 at Sprucedale Care Centre in Strathroy ON with family in her 95th year.
Daughter of Charles and Evelyn (nee Bertrand) Gray.
She is predeceased by her brothers Lawrence (2013) and Lewis Gray (2020).
She will be reunited with her loving husband William (Bill) Krekewich (1995).

Betty will be dearly missed by her children; Karla LaFayette (Phil), Cathy Kitchen (Glenn), Chuck Krekewich (Diana) and Ernie Krekewich.
She was loving grandmother to Aneika LaFayette, Dakota and Julia Kitchen, and Colin and Gillian Krekewich.
She leaves behind sisters-in-law Mabel Krykewich and Alice Rost.
Betty was born in Tilbury East Township and grew up in Merlin, ON. She was a trailblazer in a time when most women married and started their family early. She attended Business College in Chatham and then began working at Ontario Hydro in Merlin. Her career took her all over Northern Ontario training others in computer programming and eventually to Ontario Hydro Head Office in Toronto. Here, Betty met her future husband, Bill. They married and moved to Winnipeg to be near his family. Betty supported her husband's business and together they raised a family of four children. In 1977 they returned to Ontario and settled in Chatham. Betty was known for her sense of style and was always well dressed. In addition to working in a variety of capacities to help support her family, Betty was an active member in the United Church, starting with Windsor Park United Church in Winnipeg and continuing at Park Street UC and St. Andrew UC in Chatham. From singing in the choir to her role as President of the UCW and a representative at London Conference, Betty never shied away from leadership.
Betty was a truly remarkable, strong, and brave woman whose determination never waivered, even as she battled age and deteriorating health. The family wishes to thank the staff at Sprucedale Care Centre who so kindly tended to Betty over the last 3 years.
A Private Family Service to take place with Burial in Victoria Cemetery, Merlin.
Those wishing to view the Funeral Service can do so by clicking on the following Link: CLICK HERE
Online condolences may be left for the family and donations may be made to the Heart & Stroke Foundation through the Funeral Home website (www.mckinlayfuneralhome.com).
McKinlay Funeral Home, 459 St. Clair Street, Chatham, 519 351 2040