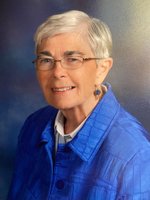 Marjorie J. Smith
SMITH: Rev. Marjorie J. - The Reverend Marjorie J. Smith was born on March 24, 1939 in Chatham, Ontario to Harold and Beatrice Smith. She died of natural causes in London, Ontario on November 12, 2020.
While rooted in her community, she travelled the world, exploring the Rockies, the cloud forests of Costa Rica, the temples of Japan, the beaches of Portugal and more. An excellent student, Marjorie earned degrees in theology from Emmanuel College of the Toronto School of Theology and Princeton Theological Seminary, New Jersey. She was commissioned as a diaconal minister of the United Church of Canada in 1966 and ordained in 1993.
Marjorie was a gifted speaker and storyteller, generous listener, organized administrator, and advocate for youth in her church communities. With the United Church of Canada, she worked on the national staff to the then newly established United Church Women (UCW) and years later, on London Conference staff for Christian Education. She is remembered fondly and gratefully by members of her congregations, including in Scarborough (Cliffcrest United), London (Calvary United), St. Thomas (Central United), Strathroy, Dorchester, Crumlin, and Dunlop.
Marjorie's smile lit up every room. She had a special gift for seeing the talents in others, and she brought out the best in those around her, especially members of her congregations. She loved to entertain and to visit. When friends couldn't come to her, she was famous for bringing a full meal in her picnic basket to share with them. She was a consummate reader of philosophy and theology, but also prized the cartoon Peanuts, especially Snoopy and his wonderful imagination. Marjorie had many skills beyond her compassionate church ministry including as a wood worker, gardener and even a driving instructor. Mostly, in thinking of others first, she used her gifts to help her friends and family.
Marjorie was predeceased by her brothers Stuart Lorne Smith and James Harold Smith. She is lovingly remembered by her nieces and nephews Cheryl McKellar (Scott) of Brantford, Pat LeGroulx (Dale) of Thamesville, Ken Smith (Chéri) of Harwich Township, six great nieces and nephews and seven great great nieces. She will be greatly missed by her many lifelong friends, including Mary Collins, Isabel Hill and family. Marjorie's family is grateful for the support and care that the staff at Mount Hope Centre for Long-Term Care provided in the last years of her life.
Due to current pandemic restrictions, a private memorial will be held to celebrate Marjorie's life. Donations in Marjorie's memory can be made to The United Church of Canada Foundation (unitedchurchfoundation.ca; 1-866-340-8223), or to the charity of your choice.
McKinlay Funeral Home, 459 St. Clair Street, Chatham, ON, 519-351-2040.