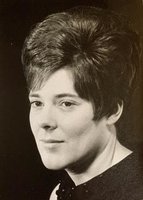 Doreen Keenan
Keenan, Doreen (nee McDonald)
There is no easy way to say goodbye to your Momma and best friend, especially when God calls
her home so suddenly. On Wednesday, July 29 th , 2020, Doreen Keenan (McDonald) earned her
wings. Left to carry on her strength, compassion and love of family are her daughters Shelley
and husband Terry, and Stephanie and her husband Mark. Grandma D will also be a guardian
angel to her grandchildren who had the key to her heart, Braydon, Taylor, Noah & Mackenzie.

The "baby whisperer" will also be missed by her siblings Gary McDonald (Monica), Marilyn
McDonald, Linda (Dave) Reaume, Sherry Dejong, Betty McDonald, Susan (Michael) Tumak and
Lee (Brandy) McDonald. She will also be missed by her many nieces and nephews.
Missing her pickled beets and family get-togethers will be the entire Keenan clan.

Greeting her at heaven's table with a gin & tonic are her parents, Roy and Madeline McDonald,
her brother Dennis McDonald, brother-in-law John DeJong and nephew Shawn McDonald. Also
excited to see her will be Clara & Ed Keenan.

The last few days have been difficult to say the least. But we wanted to thank everyone who
has reached out to show their love and support, including our step-brothers and their families
Kris (Kristin), Marc (Charlotte), Ryan (2019) & Jodi Swayze. We are particularly grateful to our
father & stepmother, Larry & Sandy Keenan. Thank you for your unwavering support and
guidance so that we could honor Mom in a way that could do justice for the outstanding person
that she was.

Do to COVID-19, a private family service will take place with a celebration of life at a later date.
McKinlay Funeral Home
459 St. Clair Street
Chatham
519 351 2040