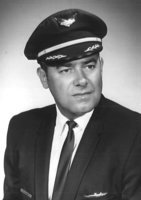 George John Lyszak
Lyszak, George John
George passed away at Chatham-Kent Health Alliance with his family by his side on July 4, 2019 at the age of 87.
Born in Climax, Saskatchewan, he was the son of the late Daniel and Mary Lyszak.
Beloved husband of 49 years to Barb (nee Holowata) and loving father to Jonathan Lyszak (De'Anne) and Kimberley Pearson (Shane).
Deeply missed by grandchildren, Emily, Liem, Kaleb and Avery.
Brother-in-law to Steve (Kim), Michael Holowatyj, Bill Procyk and Kevin Barnes.
Predeceased by sister Anne Marshall, brother-in-law Edward Marshall, parents-in-law Sam And Mary Holowatyj, sisters-in-law, Annie Procyk and Stella Marsden.
Best friend of the late Andy Cincerak.
Loving uncle to Dan Marshall (Ellen), Cindy Marshall, Christine Wheeler (Rod), Michael Procyk (Tracy), Paul Procyk (Cindy) and Danny Procyk (Tania).
Sadly missed by Anne, Cade, Delaney and Harper Prenevost of New Jersey, Warren (Jennifer) and Garret (Sarah) Marshall, Jennifer Holowatyj, Brandon Holowatyj (Laura) and Michael Holowatyj Jr.
Survived by many great-nieces, great-nephews, great-great nieces and great-great nephews.
George was a fireman (stoker) on a locomotive, a first class stationary engineer and a pilot. In fact, George was a crop duster, flying a Piper PA-25 Pawnee while dodging power lines. Later he became Captain aboard a Curtis C-46 for Zantop Airlines out of Willowrun Airport, Ypsilanti, Michigan. He had the highest non-military clearance to fly classified materials in the U.S. His cargo included satellite components and rocket fuel. He delivered components to Vietnam prior to the war.
George loved the outdoors and enjoyed fishing and hunting. He was a member of the National Firearms Association and the Ontario Federation of Anglers and Hunters.
Retirement from Navistar left him more time to garden and grow his favourite variety of lilies. George always had time for people who were important to him. After retirement, he joined the Coffee Club of friends who would gather at a restaurant or the Farmers' Market from Monday to Friday at 7:00 am to drink coffee and visit with one another. One of his coffee drinking buddies was his dear friend, Werner Lindemann (George loved the family too-Shirley, Paul, Mark and David).
George will be missed by many - his family, his friends, especially his oldest and best friend Gary Adams (Patricia) and his neighbours.
Respecting his wishes, cremation has taken place and he asks that you give your family a big hug on his behalf.
Donations in George's memory to the Canadian Cancer Society would be appreciated.
Arrangements have been entrusted to the McKinlay Funeral Home, 459 St. Clair Street, Chatham, ON.
Online condolences may be left at www.mckinlayfuneralhome.com
McKinlay Funeral Home, 459 St. Clair Street, Chatham, 519-351-2040