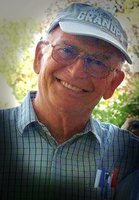 Robin Shepherd
Shepherd, Robin
With deep sorrow, we announce the sudden passing of Mr. Robin Shepherd on Thursday, September 28, 2017 at the Chatham-Kent Health Alliance - Chatham Campus, surrounded by his loving family.
Devoted husband of Carol Shepherd (nee Curtis). Much loved father of David Shepherd (Stacey Weir), Deborah (Perry) Furlan, Pamela (Allan) Woods, and Derek (Andrea) Shepherd. Awesome Grandpa of Jonathan, Joshua, Alyssia (Luis), Andrew, Antonio, Emma, Hannah, Oliver, Nicholas, Jasper and sweet baby girl Amelia. Loving Great Grandpa to precious Sofia. Cherished by many cousins, (great) nieces and nephews.
Beloved son of late Claude and Doris Shepherd (nee Smythe). Beloved brother of Rosemarie (Michael) Dunk and Genevieve (Andrew) Gosling. Predeceased by sister Elsie 'Nan' and brother Graham. Cherished son-in-law of late Eric and Miriam Curtis (nee Veitch). Loving brother-in-law to Duncan (Jeannette) Curtis and Valerie (Alan) Ball.
Friends and family to be received on Thursday, October 26, 2017 from 2:00 – 4:00 pm & 7:00 -9:00 pm at McKinlay Funeral Home, 459 St. Clair Street, Chatham. A Memorial Service will take place on Friday, October 27, 2017 at 1:00 pm at St. Paul's Congregational Church, 450 Park Ave West, Chatham with Visitation from 11:00 am until Service time. Cremation has taken place.
In lieu of flowers, donations may be made to the Juvenile Diabetes Research Foundation (http://www.jdrf.ca/ - In Memory Donation), Habitat for Humanity (http://habitatchatham-kent.ca) and/or First Presbyterian Church Saturday Breakfast Program (cheques to be made to First Presbyterian Church with Saturday Breakfast Program in memo line)
Online condolences may be left for the family at www.mckinlayfuneralhome.com.
McKinlay Funeral Home
459 St. Clair Street,
Chatham
519 351 2040
______________________________________________________________________________

Mr. Shepherd
WE SHARE OUR DAD
WITH THE COMMUNITY AND THE WORLD
Born
January 9, 1944
Buenos Aires, Argentina
At Rest
September 28, 2017
Chatham, Ontario, Canada
Robin was a disciplined and devout Christian – a true follower of our Lord and Saviour Jesus Christ. Jesus was Robin's friend and very real source of comfort…the centre and foundation of his life.
Two days before he passed he sat with his youngest son Derek, delivering one of his sermons he had written with passion and tears. He loved Jesus and made it his mission to share that love and relationship with others because he felt and we echo "It's a life worth living."
Robin's adventurous spirit led him to emigrate from England to Canada in the late 60's taking the oath of citizenship in 1972. Hungry for knowledge he graduated from the University of Guelph in 1971. Throughout the mid-70's – early 80's, while raising a young family, he earned his teaching certificate from Western University, then going on to earning his Masters of Education from the University of Windsor.
Robin was an extraordinary teacher and tutor, mentor and friend to many. His legacy will live on in the lives of his pupils, colleagues and friends. Robin was a man who lived life to the fullest and shared so much warmth, good humour and wisdom. He was a patient listener and always put the needs of others ahead of his own always leaving a lasting impression on those who came to him. No matter how great the task or minor the issue Robin always found the time to listen and counsel others whilst offering warm friendly personality to those who he spoke with. You would walk away feeling more confident tackling that problem. Robin's words "You can do it, believe you can, you're halfway there!"
In his younger years Robin was an extraordinary swimmer – butterfly stroke he had mastered. He loved Canada, great outdoors, camping, walking on many the nature trail – and falling a time or two! Robin was a charismatic and passionate story-teller. He could talk to anyone about anything on almost any subject. He loved to learn and had a fascinating mind. His endless quest for "why was this?" "What was that?" had him constantly scratching his head and looking things up so he could sleep at night. If he didn't know the answer he would often say "leave that with me" and always get back to the person who asked the question. Such was his devotion to others. He built a telescope with a friend to examine the solar system and had such a good handle on every element of the periodic table – he could help the most non-sciencey pupil enjoy his class and pass the course! He genuinely made you feel like you were the most important person on earth when he was talking to you. His knowledge, skills and attributes demanded that he have an audience. Whether that was in the form of classroom, church congregation, and face-to-face meetings – Robin thirsted for conversation. He could read in front of a crowd in a way that would make anyone sit up and listen.
Words fall short and cannot properly express how deeply Robin will be missed by his family and his many friends and students whose lives he has enriched. Much loved by students, past & present, from McGregor, Chatham-Kent Secondary Schools, and most recently St. Clair College nursing students. Robin played an active lead role in starting Debating Clubs and Rugby in Chatham-Kent. He loved a good game of chess with anyone who would play him. He volunteered to coach many a sport with women's soccer being a favourite repeat and even once the cheerleading squad.
He gave selflessly of his time volunteering for many years at the Chatham Jail through the Restorative justice program and most recently Habitat for Humanity and the Saturday Breakfast Program at First Presbyterian Church.
Mr. Shepherd will be missed.